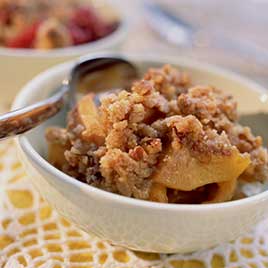 I LOVE a good Apple Crisp!  I came across a recipe awhile back that sounded good so I fiddled around with it a few times to create the PERFECT Apple Crisp (at least I think so!).
APPLE CRISP RECIPE
Filling
8-10 apples
1/4 cup maple syrup
1 tsp almond extract
2 tsp grated fresh ginger
zest of 1 orange (or a couple of drops of orange extract also works)
1/2 cup apple cider or juice (though I found this does make it a bit sweet so we also like it fine using water instead)
1 Tbsp cornstarch
Topping
2 cups raw oats
1 cup whole wheat flour (or feel free to use a gluten-free flour instead)
1 cup crushed walnuts or almonds
1/4 tsp sea salt
1/2 cup honey
1/3 cup coconut oil
1 tsp almond extract
For filling:  Peel, core, and slice the apples.  In a large bowl, combine the syrup, extract, ginger, orange zest, and juice.   Whisk in cornstarch till dissolved; add in apples and mix well; pour fruit mixture into a large casserole dish.
For topping:  Combine oats, flour, nuts, and salt.  In another bowl, whisk together honey, oil, and extract.  Add the wet ingredients to the dry and combine.
Sprinkle topping over the apple mixture and spread out evenly.  Cover with foil and bake at 350 degrees for 35 minutes.  Remove foil and bake another 15 minutes till the topping is lightly brown.  Remove from oven and let sit approx. 8-10 minutes.  Serve warm.  Delicious with fresh whipped coconut cream!