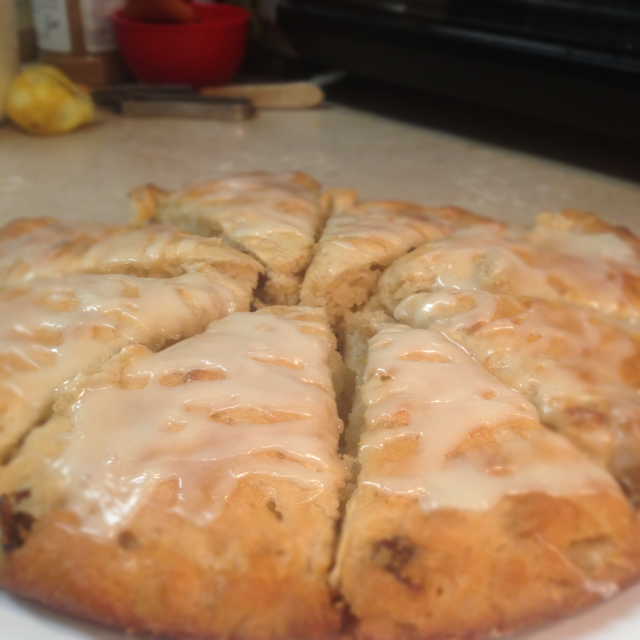 Fall is coming and for our family, this is our first authentic fall season we've experienced in 5 years!  Our little island home in the South Pacific has only one "season" – hot and humid!  So while we're not too sure how we'll handle the colder weather, we are looking forward to experiencing the beauties of the autumn season for a change.  One thing I miss out on in the islands is Starbuck's Cranberry Orange Scones.  Everytime we're in the States, I HAVE to get one!!  So today as I thought about what would be good for a nice and healthy brunch for our family (since our kids had the day off school), I decided to create a healthier, gluten free version of those scones.  This is what I came up with!
Citrus Cranberry Gluten Free Scones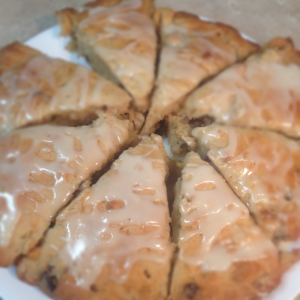 1 2/3 cups gluten free flour (I used a rice flour blend)
1 1/2 tsp aluminum free baking powder
1/2 tsp baking soda
1/4 tsp sea salt
1/3 cup organic brown sugar or sucanat
1/2 cup dried cranberries
1/2 cup butter (cold and cut into small pieces)
1 cup plain kefir (if kefir is not available, I'm sure you could combine buttermilk and yogurt for pretty much the same effect)
1 egg + 1 egg yolk & 1 egg white, separated (wow, does that even make sense!?  Follow the mixing directions and maybe it will make more sense, LOL!)
1 tsp vanilla
zest from 1 lemon
juice from 1 lemon
1 tbsp orange juice
1/2 cup powdered sugar
Heat oven to 350.  Grease a 9 inch pie dish.  Combine flour, baking powder, baking soda, salt, sugar, and cranberries into bowl and mix till well combined.  Add the pieces of butter and set aside.  In a separate bowl,  combine kefir, 1 egg plus 1 egg yolk, vanilla, lemon zest, and approximately half the lemon juice.  Whisk together, then gradually add to dry mixture, mixing carefully.  Gently stir until dough forms; do not overmix as you still want pieces of butter throughout the dough.  Put the dough in the pie dish and spread till even.  Cut the dough into 8 wedges.   Lightly beat the remaining egg white and brush over the wedges.  Bake until the scones are golden brown and firm to the touch, approximately, 40 minutes.  (I checked every 15 minutes and scored the wedges each time as well).  Cool approximately 30 minutes.  Meanwhile, stir together powdered sugar, remaining lemon juice, and orange juice.  You may need to add more sugar or juice depending on desired consistency.  Drizzle glaze over scones and serve!   Makes 8 scones (but I sliced them in halves since they were too large for my younger children).
We enjoyed our scones along with turkey bacon and sausage, eggs, and fresh fruit – and pumpkin spice coffee, of course!  It was all a huge hit and there wasn't a bite left over!