Apple Raisin Coffee Cake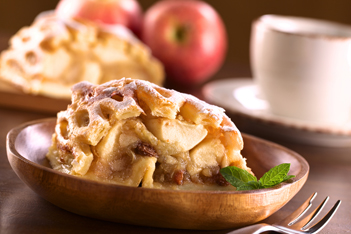 This moist, rich Apple Raisin Coffee Cake features apples, raisins, and crunchy walnuts. Mmmm.
Total Time: 50 min.
Prep Time: 10 min.
Cooking Time: 40 min.
Yield: 20 servings
Ingredients:
Nonstick cooking spray
5 cups chopped peeled apples
1 cup raisins
½ cup raw honey
1/3 cup chopped raw walnuts
¼ cup extra-virgin olive oil
2 tsp. pure vanilla extract
1 large egg, beaten
2½ cups whole wheat flour
1½ tsp. baking soda
2 tsp. ground cinnamon
Preparation:
1. Preheat oven to 350° F.
2. Lightly coat a 13 x 9-inch baking dish with spray. Set aside.
3. Combine apples, raisins, honey, and walnuts; mix well. Allow mixture to stand for 30 minutes.
4. Add oil, vanilla, and egg; mix well. Set aside.
5. Combine flour, baking soda, and cinnamon; mix well.
6. Add flour mixture to apple mixture; mix until just blended.
7. Place batter into prepared pan.
8. Bake for 35 to 40 minutes or until a toothpick inserted in center comes out clean. Let cool slightly before serving.
Nutritional Information: (per serving)
Calories: 152
Fat: 5 g
Saturated Fat: 1 g
Cholesterol: 9 mg
Sodium: 99 mg
Carbs: 27 g
Fiber: 2 g
Sugars: 14 g
Protein: 3 g