Basil Pesto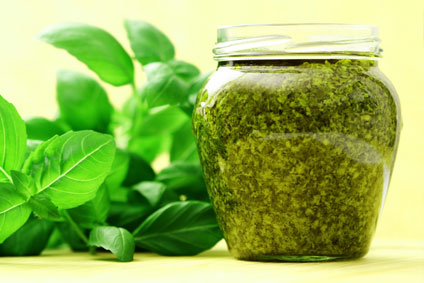 Making your own Basil Pesto from scratch is easy and delicious! Use this basil and walnut paste as a spread on sandwiches, or use as a topping for meat, roasted vegetables, or whole grain pasta. Keep in mind that pesto is not low in fat, so don't overdo it.
Total Time: 10 min.
Prep Time: 10 min.
Cooking Time: None
Yield: 8 servings, about 2 Tbsp. each
Ingredients:
2 cups fresh basil leaves
¼ cup chopped toasted walnuts
¼ cup shredded Parmesan cheese
2 cloves garlic, coarsely chopped
3 Tbsp. extra-virgin olive oil
½ tsp. sea salt
½ tsp. ground black pepper
Preparation:
1. Place basil, walnuts, cheese, and garlic in a food processor; pulse until coarsely chopped.
2. Slowly add oil; pulsing constantly.
3. Season with salt and pepper.
Nutritional Information (per serving):
Calories: 82
Fat: 8 g
Saturated Fat: 1 g
Cholesterol: 2 mg
Sodium: 176 mg
Carbohydrate: 1 g
Fiber: 0 g
Sugar: 0 g
Protein: 2 g