Blueberry Chutney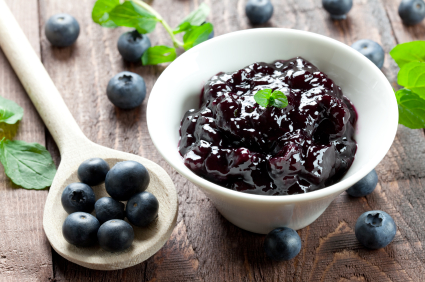 This Blueberry Chutney adds bold flavor (without adding fat!) to cooked pork and chicken, or try it as a spread on a turkey sandwich. It's so tasty, you'll soon find numerous ways to use it!
Total Time: 2 hrs. 20 min.
Prep Time: 10 min.
Cooking Time: 10 min.
Yield: 18 servings, 3 Tbsp. each
Ingredients:
3 cups fresh or frozen blueberries
½ medium onion, finely chopped
1-inch piece fresh ginger, peeled, finely chopped
1/3 cup apple cider vinegar
½ cup unsweetened apple juice concentrate
2 Tbsp. cornstarch
1 stick cinnamon (or ½ tsp. ground cinnamon)
1 dash sea salt
Preparation:
1. Combine blueberries, onion, ginger, vinegar, and apple juice concentrate in medium saucepan.
2. Add cornstarch, cinnamon, and salt. Bring to a boil over medium-high heat, stirring frequently; gently boil for 2 to 3 minutes. Remove cinnamon stick.
3. Cool completely before serving.
Tip: Chutney will keep for up to 2 weeks when stored, refrigerated, in a sealed container. Serve with chicken or pork, or as a sandwich spread.
Nutritional Information (per serving):
Calories: 44
Fat: 0 g
Saturated Fat: 0 g
Cholesterol: 0 mg
Sodium: 19 mg
Carbohydrate: 11 g
Fiber: 1 g
Sugar: 8 g
Protein: 0 g