Cashew and Oat Waffles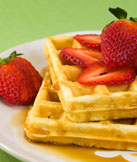 Looking for a healthier waffle? This Cashew and Oat Waffles recipe is just the ticket.
Total Time: 22 min.
Prep Time: 10 min.
Cook Time: 12 min.
Yield: 4 servings
Ingredients:
2 cups old-fashioned rolled oats
½ cup raw cashews
1 dash sea salt
1 Tbsp. coconut oil, melted
1 cup water
1 tsp. vanilla extract
Nonstick cooking spray
1 cup mixed berries
1 Tbsp. pure maple syrup (or raw honey)
Preparation:
1. Preheat waffle iron.
2. Place oats, cashews, and salt in food processor or blender; pulse until coarsely ground.
3. Add oil, water, and extract; pulse until well blended. Batter will be thick, but if it is as thick as paste add 2 to 3 additional Tbsp. of water.
4. Pour ¼ of batter into waffle iron, lightly coated with spray; cook for about 2 to 3 minutes, or until waffle iron indicates waffle is cooked, or until waffle is cooked through. Repeat with remaining batter.
5. While waffles are cooking, combine berries and maple syrup in a medium bowl. Slightly mash berries to release some juice.
6. Serve waffles topped evenly with berry mixture.
Nutritional Information (per serving):
Calories: 295
Fat: 12 g
Saturated Fat: 5 g
Cholesterol: 0 mg
Sodium: 78 mg
Carbohydrate: 40 g
Fiber: 6 g
Sugar: 8 g
Protein: 8 g