Chipotle Ketchup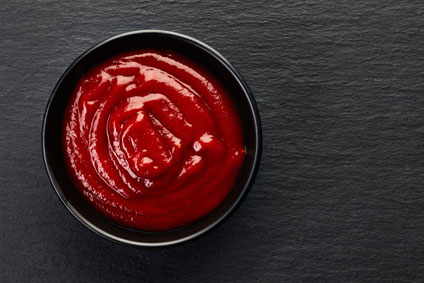 Store-bought ketchup can have hidden sugar, salt and preservatives. Make your own from scratch and kick it up a notch with smoky, spicy chipotle peppers.
Total Time: 2 hrs. 10 min.
Prep Time: 5 min.
Cooking Time: 5 min.
Yield: 10 servings, about 2 Tbsp. each
Ingredients:
1 (15-oz.) can organic tomato sauce, no salt or sugar added
½ tsp. chipotle chili powder
1 Tbsp. cider vinegar
1 Tbsp. coconut sugar (or pure maple syrup)
Preparation:
1. Heat tomato sauce, chili powder, vinegar, and sugar in small saucepan over medium heat. Bring to a boil, stirring frequently, for 5 minutes or until mixture begins to thicken. Remove from heat; cover. Cool to room temperature.
2. Refrigerate, covered, for at least 2 hours.
Nutritional Information (per serving):
Calories: 18
Fat: 0 g
Saturated Fat: 0 g
Cholesterol: 0 mg
Sodium: 7 mg
Carbohydrate: 4 g
Fiber: 1 g
Sugar: 3 g
Protein: 1 g