Chocolate Oatmeal with Banana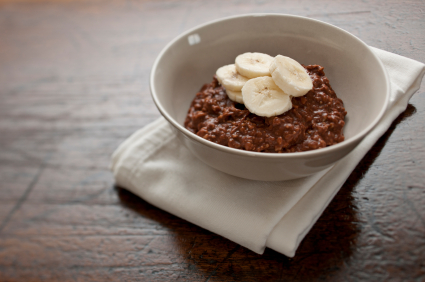 Chocolate-lovers, this is the oatmeal for you! Make your morning more delicious with sliced banana added to this protein-packed Chocolate Oatmeal.
Total Time: 8 min.
Prep Time: 5 min.
Cooking Time: 3 min.
Yield: 2 servings
Ingredients:
1 cup warm water
½ cup old-fashioned quick cooking oats
1 medium banana, sliced
½ scoop Beachbody Whey Protein Powder, Chocolate Flavor, or equivilent
1 Tbsp. flax seed meal (or ground flax seeds)
Preparation:
1. Combine water, oats, banana, and Protein Powder in a 1-quart microwave-safe bowl; mix well. Cover with a paper towel.
2. Microwave on high for 2 to 3 minutes, or until oatmeal is cooked and banana has softened.
3. Add flaxseed meal; mix well.
Nutritional Information (per serving):
Calories: 212
Fat: 5 g
Saturated Fat: 1 g
Cholesterol: 18 mg
Sodium: 27 mg
Carbohydrate: 31 g
Fiber: 6 g
Sugar: 9 g
Protein: 13 g