Chunky Salsa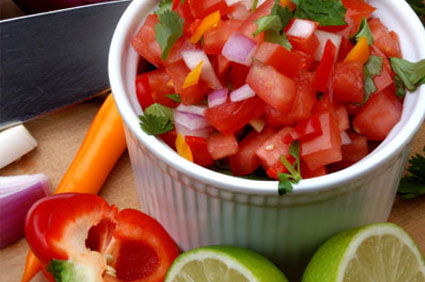 This simple chunky salsa is great on top of protein or as part of a healthy snack.
Total Time: 10 min.
Prep Time: 10 min.
Cooking Time: None
Yield: 1 serving
Ingredients:
1 medium tomato, chopped
1 green bell pepper (or red bell pepper or yellow bell pepper), chopped
12 sprigs fresh cilantro, finely chopped
¼ tsp. dried oregano leaves (to taste; optional)
Preparation:
1. Combine tomato, bell pepper, cilantro, and oregano (if desired) in a medium bowl; mix well.
Nutritional Information (per serving):
Calories: 47
Fat: 0 g
Saturated Fat: 0 g
Cholesterol: 0 mg
Sodium: 10 mg
Carbohydrate: 11 g
Fiber: 4 g
Sugar: 6 g
Protein: 2 g