Classic Coleslaw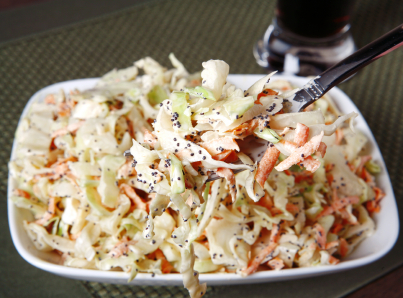 Lighten up classic coleslaw with rice wine vinegar and you'll never look back.
Total Time: 1 hr. 15 min.
Prep Time: 15 min.
Cooking Time: None
Yield: 4 servings
Ingredients:
1 medium cabbage, shredded
1 medium green (or yellow) bell pepper, chopped
1 medium red bell pepper, chopped
1 medium red onion, chopped
¼ cup rice wine vinegar
Sea salt and ground black pepper (to taste; optional)
Preparation:
1. Combine cabbage, bell peppers, onion, and vinegar in a large bowl; mix well.
2. Season with salt and pepper if desired.
3. Cover and refrigerate for 1 hour before serving.
Nutritional Information (per serving):
Calories: 93
Fat: 0 g
Saturated Fat: 0 g
Cholesterol: 0 mg
Sodium: 115 mg
Carbohydrate: 21 g
Fiber: 7 g
Sugar: 12 g
Protein: 4 g