Creamy Garlic Dressing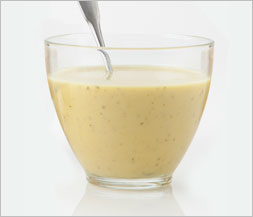 I LOVE this Creamy Garlic Dressing from Beachbody's Ultimate Reset!  It's the dressing I make most often and the ONLY way I can get my kids to eat salad!
Ingredients
½ cup extra-virgin olive oil
¼ cup apple cider vinegar
3 cloves garlic, crushed
3 Tbsp. fresh lemon juice
2 Tbsp. chopped fresh parsley
1 tsp. Himalayan salt
½ tsp. Dijon mustard
1 Tbsp. raw honey (or pure maple syrup)
Directions
Place oil, vinegar, garlic, lemon juice, parsley, salt, mustard, and honey in a blender or food processor; cover with lid. Blend until smooth.
Refrigerate dressing if not using immediately. If dressing solidifies when cold, hold at room temperature for 30 minutes. Stir before serving.
Calories: 119
Total Fat: 11 g
Saturated Fat: 1 g
Cholesterol: 0 mg
Sodium: 235 mg
Carbohydrate: 6 g
Fiber: 0 g
Sugar: 5 g
Protein: 0 g