Feta and Olive Pasta Salad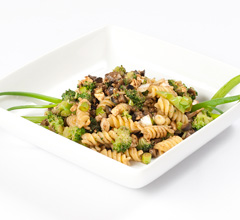 Feta and Olive Pasta Salad
Enjoy this nutritious Feta and Olive Pasta Salad at home or on the go. Add in some lean protein for a complete meal!
Ingredients
1 1/2 ounces whole wheat rotini pasta, uncooked
1 teaspoon extra virgin olive oil
2 teaspoons balsamic vinegar
1 ounce feta cheese, low-fat
1/4 cup green onion, chopped
4 olives, jumbo
1/2 cup broccoli, chopped, frozen
Preparation
Set pasta to cook according to package directions.
In a small bowl, mix olive oil, vinegar, and feta cheese.
Chop onion and olives; add to bowl with oil and cheese to make the sauce.
Thaw broccoli, warm in microwave, and set aside.
As soon as pasta has cooked, drain but do not rinse.
Toss hot pasta with sauce.
Fold in broccoli.

Calories: 310
Fat: 11 g
Cholesterol: 10 mg
Sodium: 700 mg
Carbohydrates: 42 g
Fiber: 5 g
Sugar: 5 g
Protein: 15 g