Fresh Fruit Sorbet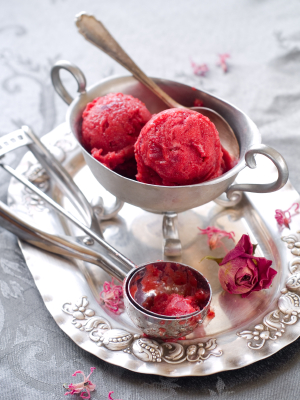 Fresh Fruit Sorbet
Satisfy your sweet tooth with this homemade fresh fruit sorbet that's packed with fruit flavor.
Total Time: 4 hrs. 10 min.
Prep Time: 10 min.
Cooking Time: None
Yield: 4 servings, about ¾ cup each
Ingredients:
3 cups fresh fruit (like bananas, peaches, pears, or strawberries)
¾ cup unsweetened almond milk (or soy milk or nonfat milk)
4 strawberries, sliced (for garnish; optional)
Preparation:
1. Place fruit and almond milk in blender; cover. Blend until smooth.
2. Place blended mixture in a shallow bowl; cover. Freeze for 2 to 4 hours, mixing with a fork every 30 minutes to break ice crystals.
3. Garnish each serving with a strawberry if desired.
Nutritional Information (per serving):
Calories: 73
Fat: 1 g
Saturated Fat: 0 g
Cholesterol: 0 mg
Sodium: 35 mg
Carbohydrate: 17 g
Fiber: 3 g
Sugar: 10 g
Protein: 1 g