Frittata with Swiss Chard, Tomatoes, and Parmesan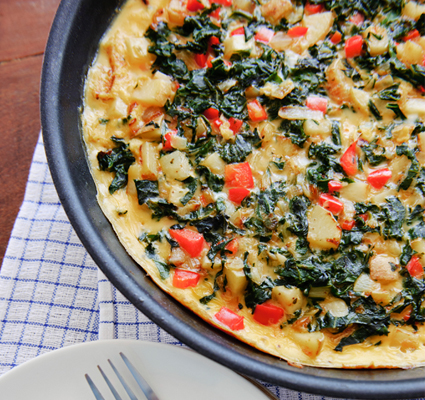 Frittata with Swiss Chard, Tomatoes, and Parmesan!  Swap out chard for your favorite green in this easily-customizable recipe.
Total Time: 35 min.
Prep Time: 10 min.
Cooking Time: 20-25 min.
Preparation Difficulty:Medium
Yield: 8 servings
Ingredients:
Nonstick cooking spray
10 large egg whites (1¼ cups)
6 large eggs
¾ cup nonfat milk
¼ cup shredded Parmesan cheese
Sea salt and ground black pepper (to taste; optional)
1 tsp. ground nutmeg
1 Tbsp. olive oil
1 medium onion, chopped
2 cups chopped Swiss chard
1 cup cherry tomatoes, cut in half
Preparation:
1. Preheat oven to 350° F.
2. Combine egg whites, eggs, milk, cheese, salt (if desired), pepper (if desired), and nutmeg in a medium bowl; whisk to blend. Set aside.
3. Heat oil in a large ovenproof skillet over medium heat.
4. Add onion and chard; cook for 4 to 5 minutes, or until tender. Turn off heat. 5. Lightly coat sides of skillet with spray.
6. Add tomatoes and egg mixture to skillet.
7. Place skillet in oven. Bake for 20 to 25 minutes or until puffy and set.
Tip: You can use spinach, kale, or other favorite greens instead of the Swiss chard. You can also mix the greens for a total of 2 cups.
Nutritional Information: (per serving)
Calories: 131
Fat: 7g
Saturated Fat: 2g
Cholesterol: 144g
Sodium: 273mg
Carbs: 4g
Fiber: 1g
Sugars: 3g
Protein: 12g