Grilled Romaine and Walnuts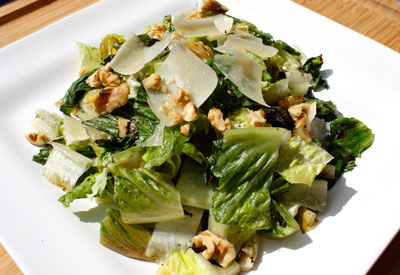 Grilling lettuce brings out a sweetness that goes perfectly with the crunchy walnuts and salty parmesan cheese in this Grilled Romaine and Walnuts recipe.
Total Time: 10 min.
Prep Time: 5 min.
Cooking Time: 5 min.
Yield: 6 servings
Ingredients:
2 Tbsp. + 1 tsp. olive oil, divided use
2 Tbsp. fresh lemon juice
½ tsp. Dijon mustard
Sea salt and ground black pepper (to taste; optional)
3 romaine lettuce heads, stems attached (to hold leaves together), quartered
Nonstick cooking spray
¼ cup coarsely chopped raw walnuts
2 tbsp. shaved Parmesan cheese
Preparation:
1. Preheat grill to high.
2. Combine 2 Tbsp. oil, lemon juice, mustard, salt (if desired), and pepper (if desired) in a small bowl; whisk to blend. Set aside.
3. Brush romaine with remaining 1 tsp. oil. Place on grill that has been lightly coated with spray; cook for 2 to 3 minutes on each side, or until romaine blackens but does not burn. Remove from heat.
4. Chop lettuce into bite-sized pieces, discarding stems. Place in a large serving bowl.
5. Drizzle with dressing; toss gently to blend.
6. Top with walnuts and cheese.
Nutritional Information (per serving):
Calories: 142
Fat: 10 g
Saturated Fat: 2 g
Cholesterol: 2 mg
Sodium: 115 mg
Carbohydrate: 12 g
Fiber: 7 g
Sugar: 4 g
Protein: 5 g