Hearty Beef Stew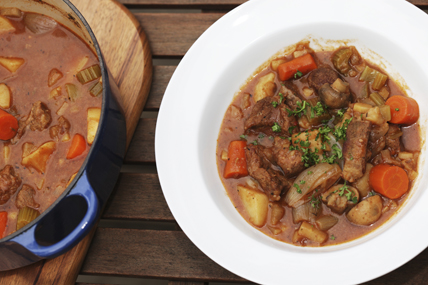 For a quick, healthy meal in the middle of winter, try this hearty beef stew, or our vegan-friendly version.
Total Time: 1 hr. 15 min.
Prep Time: 15 min.
Cooking Time: 1 hr.
Yield: 6 servings
Ingredients:
1½ lb. raw lean beef stew meat, boneless
1½ medium onions, chopped
2 medium tomatoes, chopped
¼ cup reduced-sodium soy sauce
1 Tbsp. hot pepper sauce (like Tabasco)
½ to 1 cup low-sodium organic beef broth (or vegetable broth)
1 bay leaf
½ medium green bell pepper, chopped
½ medium red bell pepper, chopped
2 medium carrots, sliced
2 medium potatoes, cubed
3 cups cooked quinoa, hot
Preparation:
1. Place beef, onions, tomatoes, soy sauce, hot sauce, 1/2 cup broth, and bay leaf in large saucepot.
2. Bring to a boil over medium-high heat. Reduce heat to medium-low; cook, covered, for 40 minutes, adding additional broth as needed.
3. Add bell peppers, carrots, and potatoes; cook, covered, for an additional 15 to 20 minutes or until sauce has thickened and beef is fork tender.
4. Serve with quinoa.
Vegan Variation: Substitute beef with same amount of tempeh. Use only ½ cup vegetable broth instead of beef broth. Bring to a boil and cook for 10 minutes. Add vegetables and cook for an additional 10 to 15 minutes.
Nutritional Information (per serving):
Calories: 346
Fat: 7 g
Saturated Fat: 2 g
Cholesterol: 75 mg
Sodium: 626 mg
Carbohydrate: 40 g
Fiber: 6 g
Sugar: 5 g
Protein: 33 g