Homemade Energy Bars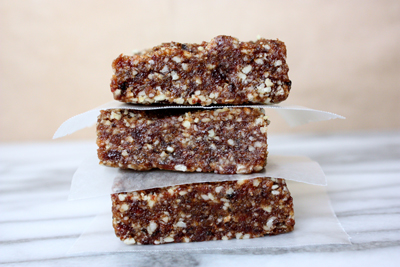 Want to try your hand at making your own fruit and nut–based snack bar? In just a few minutes, you can create a healthy, customizable snack to help you eat right when you're on the go.  These Homemade Energy Bars have become my favorite snack bars and are SO easy to make!
Total Time: 1 hr. 10 min.
Prep Time: 10 min.
Cooking Time: 0 min.
Yield: 12 servings, 1 bar each
Ingredients:
1 cup pitted whole dates or prunes for the base
1 cup dried fruit
1 cup nuts and seeds
2 scoops Shakeology (optional)
Optional flair
Preparation:
1. Combine equal parts dates or prunes, dried fruits, nuts, and seeds in the bowl of a food processor.
2. Process for 1 to 2 minutes. Check to make sure all ingredients are breaking down into smaller pieces; scrape sides of bowl as needed. Process 2 to 3 minutes more until ingredients form tiny crumbs that come together into a loose ball.
3. Turn out the Snack Bar-O-Matic mixture onto a square of cellophane (or an 8″ x 8″ baking dish). Press into a flat disc.
4. Cover tightly and refrigerate one hour. Cut into 12 bars. Store in refrigerator.
Binding Fruit Options:
Dates
Prunes
Dried Fruit Options:
Dried apricots
Dried figs
Raisins
Dried cranberries
Dried blueberries
Dried cherries
Raw Nut or Raw Seed Options:
Flaxseeds
Chia seeds
Pepitas (pumpkin seeds)
Sunflower seeds
Almonds
Walnuts
Peanuts
Cashews
Sesame seeds
Coconut
Optional Flair:
½ tsp. rum extract
½ tsp. cinnamon
1 Tbsp. honey
½ tsp. vanilla extract
1-2 oz. dark chocolate chips
2 tsp. grated fresh ginger
Nutritional Information (With Shakeology): (per serving)
Calories: 151
Fat: 5g
Saturated Fat: <1g
Cholesterol: 0mg
Sodium: 76mg
Carbs: 20g
Fiber: 5g
Sugars: 12g
Protein: 6g
Nutritional Information (Without Shakeology): (per serving)
Calories: 124
Fat: 5g
Saturated Fat: <1g
Cholesterol: 0mg
Sodium: 51mg
Carbs: 15g
Fiber: 3g
Sugars: 11g
Protein: 3g