Homemade Granola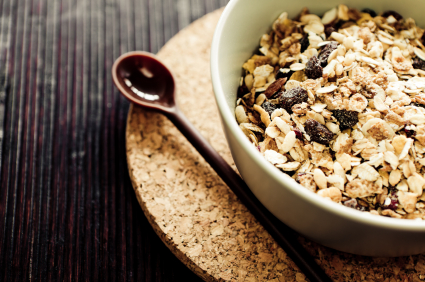 Store-bought granola can be high in fat and calories, and sweetened with unhealthy sugars. This easy homemade granola is loaded with wholesome ingredients and sweetened with apple juice and maple syrup.
Total Time: 1 hr. 20 min.
Prep Time: 5 min.
Cooking Time: 1 hr. 15 min.
Yield: 13 servings, ½ cup each
Ingredients:
Nonstick cooking spray
3 cups old-fashioned rolled oats
2 cups rolled wheat flakes (or barley flakes)
¼ cup unsweetened frozen apple juice concentrate, thawed
2 Tbsp. pure maple syrup
1 Tbsp. ground cinnamon
½ cup raisins
1 cup slivered raw almonds (or chopped walnuts or chopped pecans)
Preparation:
1. Preheat oven to 350°F.
2. Lightly coat baking sheet with spray. Set aside.
3. Combine oats and wheat flakes in a large bowl; mix well.
4. Add juice concentrate and maple syrup; toss gently to blend, taking care not to crush flakes.
5. Spread mixture over baking sheet.
6. Sprinkle with cinnamon.
7. Bake for 45 minutes, stirring every 15 minutes. Reduce heat to 300°F. and cook for an additional 15 to 30 minutes, or until dry but not dark.
8. Remove from oven and let cool completely.
9. Add raisins and almonds; mix well.
Nutritional Information (per serving):
Calories: 180
Fat: 5 g
Saturated Fat: 1 g
Cholesterol: 0 mg
Sodium: 47 mg
Carbohydrate: 30 g
Fiber: 4 g
Sugar: 10 g
Protein: 5 g