Infinitely Adaptable Pancake Recipe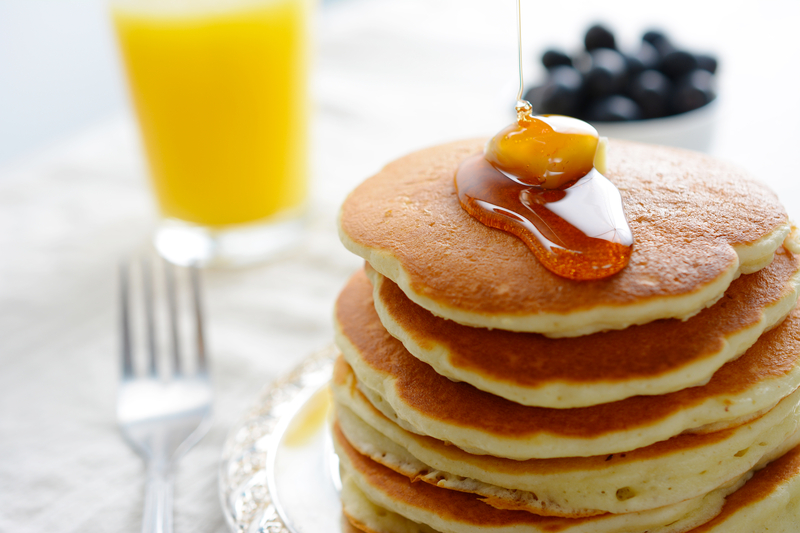 This pancake recipe is probably THE most used recipe in our household!  I mean, seriously, who doesn't LOVE pancakes?! And my kids absolutely love every variation I've ever created.  Use the base recipe, use your imagination, and get creative with some amazing pancakes that your family will rave about!
Ingredients for Basic Pancake Recipe:
2 eggs
2 cups milk – your choice of cow's milk, almond milk, or coconut milk – works great with any of these
1/4 cup coconut oil
2 Tbsp sweetener – your choice of raw sugar, brown sugar, honey, or agave
1 tsp sea salt
2 Tbsp aluminum free baking powder
2 cups whole wheat flour – works great also with an all-purpose gluten free flour blend, buckwheat flour, or oat flour
Beat eggs. Stir in milk and oil. Add all dry ingredients except flour and blend.  Blend in flour until all but very fine lumps remain.  Cook on a greased surface over medium high heat. Turn pancake when edges become dry and most of top is bubbly.  Serves 6-8.
Nutritional Information for Basic Pancakes:
Calories: 235
Protein:  8 g
Fiber: 4 g
Carbs: 35 g
Fat: 11 g
Ok, that's your basic pancake.  Now here's where it gets fun!  Let's create!
For Pumpkin Pancakes, add 1 cup pumpkin puree and 2 tsp pumpkin pie spice.
For Banana Pancakes, add about 1 cup mashed banana and 1 tsp vanilla extract.  Add 1/2 tsp cinnamon for some extra flair if you want.
For Blueberry Pancakes, once Basic Pancake recipe is mixed, add 1-2 cups of fresh or frozen blueberries.  Stir in gently.
For Apple Cinnamon Pancakes, replace oil with 1/4 cup applesauce, add 1-2 tsp of cinnamon and 1 cup chopped apple pieces.
For Coconut Pancakes, make sure the milk you use is coconut milk.  Add 1/2 cup shredded coconut to mix.  Optional: add 1 tsp coconut extract for an extra coconut punch!
For Gingerbread Pancakes, add 1/2 cup molasses, use brown sugar for the sweetener choice, and add in 1 1/2 tsp cinnamon, 1 1/2 tsp ground ginger, and 1/2 tsp ground cloves.
So, these are some of my family's favorite pancake variations.  Now it's your turn!  Get creative and see what you can come up with. I'd love to hear how it turns out!