Italian Grilled Tilapia with Kale and Tomato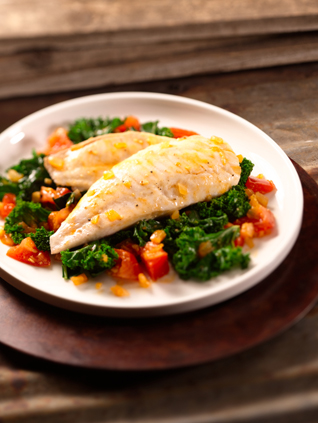 Make flaky, delicious grilled tilapia in minutes with this easy recipe and save the seasoning blend to use in other recipes for chicken, fish, and vegetables!
Total Time: 17 min.
Prep Time: 10 min.
Cooking Time: None
Yield: 1 serving
Ingredients:
1 (4-oz.) raw tilapia fillet
½ tsp. Italian Seasoning Blend (recipe below)
Nonstick cooking spray
1 clove garlic, finely chopped
2½ cups chopped fresh kale
1½ cups cherry tomatoes, cut in half (or 2 medium tomatoes, chopped)
1 tsp. extra-virgin olive oil
Preparation:
1. Season both sides of tilapia with Italian seasoning; set aside.
2. Heat large nonstick skillet, lightly coated with spray, over medium heat.
3. Add garlic and kale; cook, stirring frequently, for 1 to 2 minutes.
4. Place tilapia fillet on top of kale mixture; cook, covered, for 1 minute.
5. Gently turn tilapia over. Top with tomatoes; cook for 3 to 4 minutes, or until tilapia is cooked through and flakes easily when tested with a fork.
6. Place kale, tilapia, and tomatoes on a serving plate; drizzle with oil.
Tip: The Italian Seasoning blend can be stored in an airtight container for use in the future.
Italian Seasoning Blend
4 Tbsp. dried parsley, crushed
4 tsp. dried onion flakes
2 tsp. dried basil, crushed
1 tsp. ground oregano
1 tsp. ground thyme
1 tsp. garlic powder
1 tsp. sea salt
¼ tsp. ground black pepper
Preparation:
Place all ingredients in a medium bowl; mix well.
Nutritional Information (per serving):
Calories: 279
Fat: 8 g
Saturated Fat: 2 g
Cholesterol: 57 mg
Sodium: 195 mg
Carbohydrate: 27 g
Fiber: 6 g
Sugar: 6 g
Protein: 31 g