Melon Salad with Tangy Yogurt Honey Sauce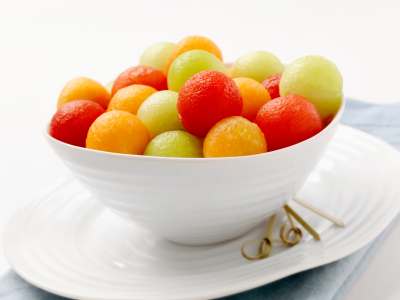 This chilled melon salad is amazingly refreshing thanks to its tangy and sweet honey lime sauce. Experiment with different combinations of fruits and herbs for variety.
Total Time: 10 min.
Prep Time: 10 min.
Cooking Time: None
Yield: 2 servings
Ingredients:
½ cup nonfat plain Greek yogurt
1 Tbsp. raw honey
1 to 2 tsp. fresh lime juice
½ tsp. finely grated lime peel
¼ tsp. pure vanilla extract
½ cup cubed cantaloupe
½ cup cubed honeydew melon
½ cup cubed watermelon
12 fresh mint leaves, finely chopped (for garnish; optional)
Preparation:
1. Combine yogurt, honey, lime juice, lime peel, and extract in a small bowl; whisk to blend. Set aside.
2. Place cantaloupe, honeydew, and watermelon in a medium bowl; mix well.
3. Drizzle evenly with yogurt mixture; toss gently to blend.
4. Place evenly into 2 small serving bowls; garnish with mint if desired.
Nutritional Information(per serving):
Calories: 104
Fat: 0 g
Saturated Fat: 0 g
Cholesterol: 4 mg
Sodium: 34 mg
Carbohydrate: 21 g
Fiber: 1 g
Sugar: 19 g
Protein: 6 g