Oven Poached Salmon with Cucumber Sauce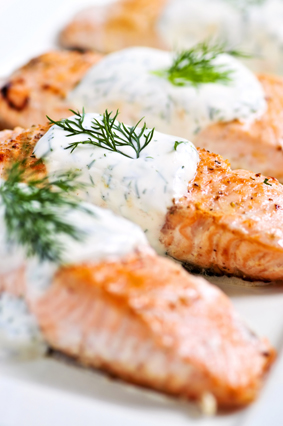 Try this simple but tasty oven poached salmon that's good for the heart.
Total Time: 32 min.
Prep Time: 10 min.
Cooking Time: 22 min.
Yield: 2 servings
Ingredients for Poached Salmon:
2 4-oz each raw wild salmon fillets
3 fresh dill springs, chopped
2 Tbsp. fresh lemon juice
Sea salt and ground black pepper (to taste; optional)
Water
Ingredients for Cucumber Sauce:
¼ medium cucumber, finely chopped
4 fresh dill sprigs, chopped (reserve a small amount for garnish)
¼ cup nonfat plain Greek yogurt
½ tsp. finely chopped lemon peel
Sea salt and ground black pepper (to taste; optional)
Preparation:
1. Preheat oven to 375° F.
2. Place salmon, skin-side down, in baking dish. Top with dill and drizzle with lemon juice.
3. Season with salt and pepper if desired.
4. Add water to cover salmon. Cover baking dish with aluminum foil.
5. Bake for 18 to 22 minutes, or until salmon flakes easily when tested with a fork.
6. While salmon is baking, make cucumber sauce by combining cucumber, dill, yogurt, lemon peel, salt (if desired), and pepper (if desired) in a medium bowl; mix well. Set aside.
7. Gently remove poached salmon from baking dish with a slotted spoon or spatula and place on a serving plate.
8. Top salmon with cucumber sauce. Garnish with dill.
Nutritional Information (per serving):
Calories: 184
Fat: 7 g
Saturated Fat: 1 g
Cholesterol: 64 mg
Sodium: 353 mg
Carbohydrate: 3 g
Fiber: 0 g
Sugar: 2 g
Protein: 26 g