Pasta Puttanesca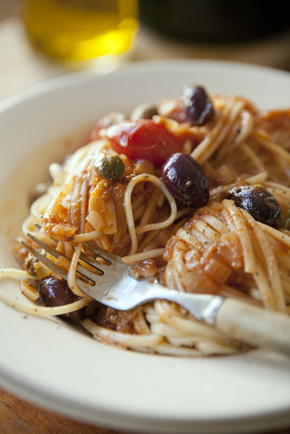 Just because you're eating healthy doesn't mean you have to forgo your favorites. This Pasta Puttanesca recipe made with tomatoes, olives, and capers will satisfy your cravings.
Total Time: 23 min.
Prep Time: 10 min.
Cooking Time: 13 min.
Yield: 4 servings, about 1½ cups each
Ingredients:
8 oz. dry whole wheat spaghetti
1 Tbsp. extra-virgin olive oil
2 cloves garlic, finely chopped
4 anchovy fillets, drained
1 (14.5-oz.) can diced tomatoes, no added salt
¼ cup pitted chopped Spanish (or Greek) olives
2 Tbsp. capers
1 tsp. dried oregano leaves
¼ tsp. crushed red pepper
1/3 cup chopped flat-leaf (Italian) parsley
¼ cup grated Parmesan cheese
Preparation:
1. Cook pasta according to package directions; drain. Set aside. Keep warm.
2. Heat oil in large skillet over medium heat.
3. Add garlic, anchovies, and crushed pepper; cook, stirring frequently, for 3 minutes, or until anchovies melt into oil and completely dissolve and garlic is tender.
4. Add tomatoes, olives, capers, oregano, red pepper, and parsley. Bring sauce to a boil. Reduce heat to low; gently boil for 5 to 8 minutes.
5. Add pasta to sauce. Toss gently to coat; cook, stirring frequently, for 2 minutes, or until heated through.
Nutritional Information (per serving):
Calories: 311
Fat: 9 g
Saturated Fat: 2 g
Cholesterol: 9 mg
Sodium: 618 mg
Carbohydrate: 50 g
Fiber: 2 g
Sugar: 3 g
Protein: 13 g