Southwestern Salad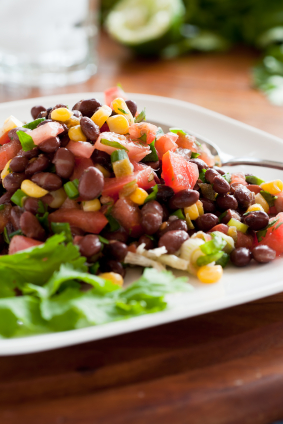 Corn, black beans, and cilantro gives flair to this simple Southwestern Salad.
Total Time: 1 hr. 10 min.
Prep Time: 10 min.
Cooking Time: None
Yield: 8 servings, 1 cup each
Ingredients:
2 cups cooked brown rice (or other cooked whole grain)
1 (15-oz.) can black beans, drained, rinsed
2 cups frozen whole-kernel corn, thawed
1 medium tomato, finely chopped
3 green onions, finely chopped
2 Tbsp. extra-virgin olive oil
¼ cup white wine vinegar
¼ cup fresh cilantro, chopped
1 medium jalapeño, finely chopped (or cayenne pepper to taste)
1 tsp. mild chili powder
Preparation:
1. Combine rice, beans, corn, bell pepper, onion, oil, vinegar, cilantro, jalapeño, and chili powder in a large serving bowl; mix well.
2. For best flavor, cover and refrigerate for at least an hour before serving.
Tip: Rice can be mixed into salad, or all other ingredients can be combined and served over the rice.
Nutritional Information (per serving):
Calories: 157
Fat: 4 g
Saturated Fat: 1 g
Cholesterol: 0 mg
Sodium: 159 mg
Carbohydrate: 26 g
Fiber: 5 g
Sugar: 2 g
Protein: 5 g