Spicy Red Pepper Pasta Sauce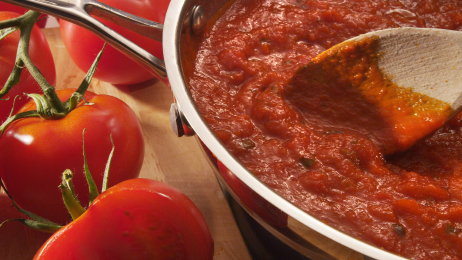 Heat up your ordinary pasta sauce with garlic and serrano chili for this Spicy Red Pepper Pasta Sauce!
Total Time: 26 min.
Prep Time: 10 min.
Cooking Time: 10 min.
Yield: 13 servings, about 1/3 cup each
Ingredients:
2 tsp. olive oil
6 medium red bell peppers, chopped
2 medium onions, chopped
1 cup low-sodium organic vegetable broth
3 cloves garlic, finely chopped
1 tsp. dried basil
1 tsp. dried oregano
1 small serrano chili, cut in half, seeds removed, finely chopped (optional)
Preparation:
1. Heat oil in large nonstick skillet over medium-high heat.
2. Add bell peppers and onions; cook, stirring frequently, for 5 to 6 minutes, or until soft.
3. Add broth, garlic, basil, and oregano. Bring to a boil. Reduce heat to medium; gently boil, stirring occasionally, for 8 to 10 minutes, or until peppers are very tender.
4. Place pepper mixture and chile (if desired) in blender, in small batches; cover with lid and a kitchen towel. Blend until smooth.
5. Serve over whole grain pasta if desired.
Nutritional Information (per serving):
Calories: 33
Fat: 1 g
Saturated Fat: 0 g
Cholesterol: 0 mg
Sodium: 14 mg
Carbohydrate: 5 g
Fiber: 2 g
Sugar: 3 g
Protein: 1 g