Spinach Salad with Turkey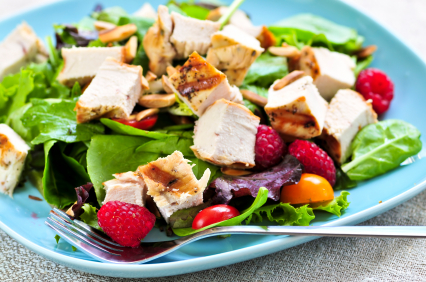 This simple spinach salad with turkey has a bold citrus and garlic dressing. It's quick and easy to make for a healthy lunch or side dish.
Total Time: 10 min.
Prep Time: 10 min.
Cooking Time: None
Yield: 4 servings
Ingredients:
¼ cup fresh orange juice
2 Tbsp. red wine vinegar
2 tsp. extra-virgin olive oil
2 cloves garlic, finely chopped
10 oz. fresh spinach, stems removed (about 6 cups)
½ medium red onion, finely sliced
1 medium tomato, chopped
1 cup sliced mushrooms
12 oz. cooked turkey breast
Preparation:
1. Combine orange juice, vinegar, oil, and garlic in a small bowl; whisk to blend. Set aside.
2. Combine spinach, onion, tomato, mushrooms, and turkey in a large serving bowl; mix well.
3. Drizzle dressing over salad; toss gently to blend.
4. Divide evenly between 4 serving plates.
Nutritional Information (per serving):
Calories: 137
Fat: 4 g
Saturated Fat: 1 g
Cholesterol: 38 mg
Sodium: 420 mg
Carbohydrate: 9 g
Fiber: 2 g
Sugar: 5 g
Protein: 18 g