Summer Salad with Basil Dressing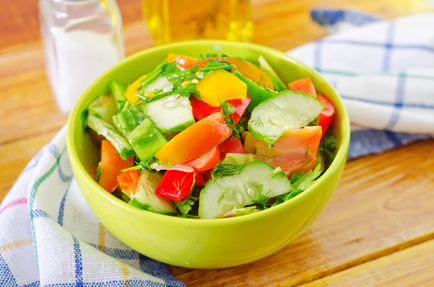 This summer salad is loaded with summertime favorites, including tomatoes, cucumber, and stone fruit with a refreshing basil dressing.
Total Time: 15 min.
Prep Time: 15 min.
Cooking Time: None
Yield: 1 serving
Ingredients:
2 tsp. extra-virgin olive oil
1 Tbsp. rice wine vinegar
1 tsp. raw honey
¼ packed fresh basil leaves
2 cups chopped romaine lettuce
¼ medium cucumber, cut in half lengthwise
1 heirloom tomato, coarsely chopped
1 medium nectarine (or peach, apple or pear), slightly firm, coarsely chopped
2 tsp. raw pecan pieces
½ oz. soft goat cheese
Preparation:
1. Place oil, vinegar, honey, and basil in a food processor or blender; cover. Pulse until smooth. Set aside.
2. Combine lettuce, cucumber, tomato, and nectarine in a large serving bowl; mix well.
3. Drizzle salad with dressing; toss gently to blend.
4. Top with pecans and cheese.
Nutritional Information (per serving):
Calories: 274
Fat: 16 g
Saturated Fat: 4 g
Cholesterol: 7 mg
Sodium: 67 mg
Carbohydrates: 30 g
Fiber: 7 g
Sugar: 22 g
Protein: 7 g