Sunflower Seed and Hazelnut Bread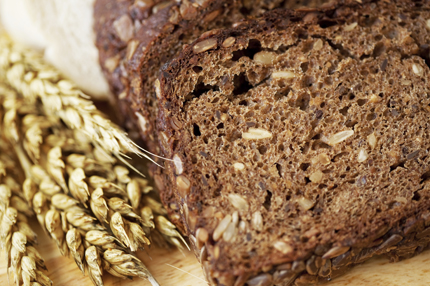 This hearty, fiber-rich Sunflower Seed and Hazelnut Bread is easy to make and keeps for days.
Total Time: 1 hr. 30 min.
Prep Time: 10 min.
Cooking Time: 1 hr.
Yield: 6 servings
Ingredients:
¾ cup raw sunflower seeds
¼ cup raw pumpkin seeds
½ cup flax seed
½ cup chopped hazelnuts (or almonds)
1½ cups old-fashioned rolled oats
2 Tbsp. chia seeds
¼ cup psyllium seed husks (or 3 Tbsp. psyllium husk powder)
1 tsp. fine sea salt
1 Tbsp. pure maple syrup
3 Tbsp. coconut oil (melted)
1½ cups water
Nonstick cooking spray
Preparation:
1. Combine sunflower seeds, pumpkin seeds, flax seed, hazelnuts, oats, chia seeds, psyllium seed husks, and salt in a large bowl; mix well. Set aside.
2. Combine maple syrup, oil, and water in a large bowl; whisk to blend.
3. Add sunflower seed mixture to maple syrup mixture; mix well. If dough is too stiff add 1 to 2 tsp. additional water.
4. Place dough in 9 x 5-inch loaf pan lightly coated with spray. Smooth with the top of a spoon. Let dough sit, covered, for at least 2 hours.
5. Preheat oven to 350° F.
6. Bake for 20 minutes. Remove from loaf pan and place upside down on rack for 30 to 40 minutes, or until bread sounds hollow when tapped.
7. Cool completely; when cool, cut into 12 slices.
8. Store, tightly sealed, for up to 5 days, or store in freezer.
Nutritional Information (per serving):
Calories: 225
Fat: 17 g
Saturated Fat: 4 g
Cholesterol: 0 mg
Sodium: 195 mg
Carbohydrate: 16 g
Fiber: 7 g
Sugar: 2 g
Protein: 6 g