Triple Berry Pancakes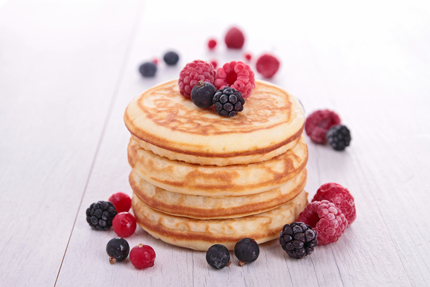 Light in calories, but heavy on flavor, these Triple Berry Pancakes are just the thing for weekend mornings.
Total Time: 16 min.
Prep Time: 10 min.
Cooking Time: 6 min.
Yield: 8 servings, 2 pancakes each
Ingredients:
2 Tbsp. fresh or frozen blueberries
2 Tbsp. fresh or frozen raspberries
2 Tbsp. fresh or frozen sliced strawberries
2 large eggs, lightly beaten
2 Tbsp. coconut oil, melted
2 cups low-fat milk
2 tsp. baking soda
½ cup wheat germ
½ tsp. sea salt
1½ cups whole-wheat pastry flour
Nonstick cooking spray
Preparation:
1. Combine blueberries, raspberries, and strawberries in a medium bowl; mix well. Set aside.
2. Combine eggs, oil, and milk in a medium bowl; whisk to blend. Set aside.
3. Combine baking soda, wheat germ, salt, and flour in a medium bowl; mix well.
4. Add flour mixture to egg mixture; mix until just blended.
5. Heat large nonstick skillet lightly coated with spray on medium-high heat.
6. Spoon about ¼ cup batter into skillet for each pancake; cook for 1 to 2 minutes or until bubbles form on top.
7. Add about 2 tsp. berries to each pancake. Flip with spatula and cook for 30 seconds.
8. Repeat with remaining batter.
9. Serve pancakes topped evenly with remaining berries.
Nutritional Information (per serving):
Calories: 180
Fat: 7 g
Saturated Fat: 4 g
Cholesterol: 49 mg
Sodium: 508 mg
Carbohydrate: 24 g
Fiber: 4 g
Sugar: 1 g
Protein: 8 g