Turkey Sausage Muffin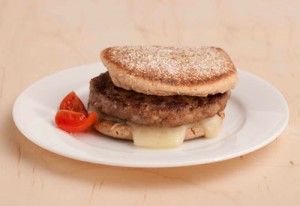 Turkey Sausage Muffin
Breakfast is the most important meal of the day, so skip the fast food version and make it satisfying with this protein-packed turkey sausage muffin.
Total Time: 8 min.
Prep Time: 5 min.
Cooking Time: 3 min.
Preparation Difficulty: Easy
Yield: 1 serving
Ingredients:
1 whole-grain English muffin, split
1 oz. part-skim mozzarella cheese (sliced)
1 turkey sausage patty, warm
Preparation:
1. Preheat broiler or toaster oven to high.
2. Top one muffin half with cheese and place on baking sheet.
3. Broil for 2 to 3 minutes, or until cheese melts.
4. Top muffin with a sausage patty and the other muffin half.
Nutritional Information (per serving):
Calories: 387
Fat: 20 g
Saturated Fat: 7 g
Cholesterol: 58 mg
Sodium: 566 mg
Carbohydrate: 32 g
Fiber: 2 g
Sugar: 1 g
Protein: 21 g