Vegetarian Spaghetti Sauce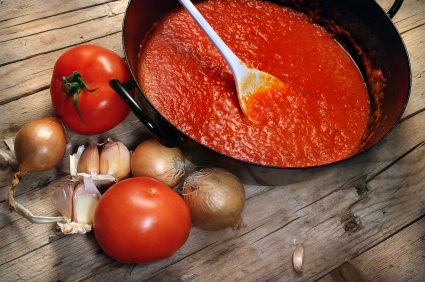 Skip the jarred pasta sauce from the grocery store, which is usually loaded with sugar, sodium, and artificial ingredients. It's easy to make your own Vegetarian Spaghetti Sauce! Freeze leftovers in individual containers for a quick weeknight meal.
Vegetarian Spaghetti Sauce
Total Time: 58 min.
Prep Time: 10 min.
Cooking Time: 48 min.
Yield: 9 servings, about ½ cup each
Ingredients:
2 Tbsp. olive oil
2 medium onions, chopped
2 cloves garlic, chopped
1 cup low-sodium vegetable broth
1 (8 oz.) can tomato sauce, no sugar added
3 oz. tomato paste, no sugar added
2 medium tomatoes, chopped
1 Tbsp. dried oregano leaves
1 Tbsp. dried basil leaves
1 medium zucchini, chopped
Preparation:
1. Heat oil in medium skillet over medium-high heat.
2. Add onions; cook for 5 to 6 minutes, or until translucent.
3. Add garlic; cook for 1 to 2 minutes.
4. Add broth, tomato sauce, tomato paste, tomatoes, oregano, and basil. Bring to a boil. Reduce heat to low; cook, stirring occasionally, for 30 minutes.
5. Add zucchini; cook, stirring occasionally, for 10 minutes.
6. Serve over whole-grain spaghetti or pasta.
Nutritional Information (per serving) not including spaghetti or pasta:
Calories: 65
Fat: 3 g
Saturated Fat: 0 g
Cholesterol: 0 mg
Sodium: 157 mg
Carbohydrate: 8 g
Fiber: 2 g
Sugar: 4 g
Protein: 2 g