Yogurt and Fresh Fruit Parfait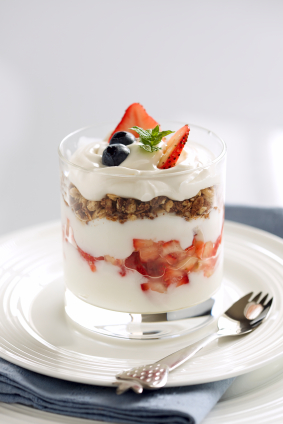 Dress up your breakfast with a delightful parfait or turn it into an elegant dessert. Choose any fresh fruit or mix your favorites for this Yogurt and Fresh Fruit Parfait.
Total Time: 10 min.
Prep Time: 10 min.
Cooking Time: None
Yield: 1 serving
Ingredients:
6 oz. nonfat plain yogurt
½ cup sliced fresh fruit (like oranges, peaches, or blueberries)
2 Tbsp. old-fashioned rolled oats, toasted
Preparation:
1. Place half of yogurt in a small glass serving bowl; top with fruit and oats. Repeat layers.
Tip: To toast oats, place oats on baking sheet and bake at 375° F. for 15 to 20 minutes, stirring once. Cool.
Nutritional Information (per serving):
Calories: 179
Fat: 1 g
Saturated Fat: 0 g
Cholesterol: 3 mg
Sodium: 168 mg
Carbohydrate: 32 g
Fiber: 3 g
Sugar: 16 g
Protein: 12 g