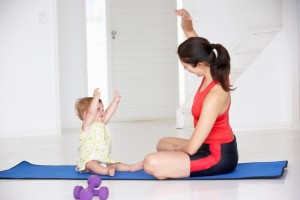 Fitness for Busy Moms
I'm a busy mom!  And since you're reading this article titled, "Fitness for Busy Moms", most likely you are a busy mom yourself!  As for me, I have 5 kids, homeschool, assist my husband in our ministry here on the island of Pohnpei (where we are missionaries), and run a home-based health and wellness business.  Never a dull moment in my life!
So you may be asking, "How DO you stay fit and healthy with such a busy life?"  I'll be the first to admit, it's not easy.  BUT it IS do-able!  Here's some tips that have helped me stay on track:
Plan, plan, plan!  Oh, and did I mention you have to plan?!  If you leave your health to chance, it's going to take the back burner in the midst of kid chaos.  Schedule your workouts, plan your meals out in advance (weekly works best for us), have workout clothes set aside beforehand, plan for healthy snacks on the go, etc.  If you fail to plan, you can plan to fail!
Get your kids involved!  Kids love activity and kids love to be involved in planning.  So why not have them join in with your workouts (if this is just YOU TIME, that's ok too – been there!  I understand!).  My 8 year old son now loves to get up early with me and go running or do Les Mills Combat!  For the past 4 months he's faithfully gotten up an extra hour earlier every morning to workout with me.  In return, every few weeks I take him our for a special treat – just him and me.  He loves that and is motivated at this young age to live a healthy lifestyle!  Win-win!  Now some of my other kids are joining in on these early mornings!
Simplify your nutrition!  Eating healthy doesn't mean you have to prepare elaborate meals with hours of prep time every evening for your family!  At our house, we eat very simply.  Several times a month I try new recipes and get a little more "fancy" in the kitchen, but for the most part we have a simple protein such as beans or grilled fish or chicken, lots of veggies, mostly raw (my kids love raw veggies like carrots, broccoli, cucumbers, snow peas, etc with a simple dip like homemade hummus or ranch dressing), brown rice or quinoa, and some fruit – simple, quick, and well-balanced.  We also drink Shakeology daily (usually for breakfast but sometimes for snacks or lunch), which takes a lot of the guess-work out of meal planning and ensures that we're getting in our daily nutrition as well!
Don't take on more than you can handle!  If you are already living a stressed-out life and on the verge of burn out, now is probably not the best time to commit to the hour long workouts of P90X.  Start out small with something like 30 minute brisk walks, a short run each morning or evening, short but intense workouts like Ten Minute Trainer, or a low impact workout program such as Tai Cheng.  Ease into it slowly and add more as you can.
Recruit some support!  Find other busy moms in your area who may want to walk or run with you (if you have very small children, a jogging stroller may be a wise investment!).  Join our Challenge Group, which is primarily made up of busy moms committed to their health.  The support and accountability makes all the difference often between success and giving up!
Just do it!  Planning is key, but it gets you nowhere if you don't put the plans into action.  Decide on your game plan (contact me at coachsueann@simplehealthsource.com if you need help figuring out the "game plan" best for you) and then get started!  Don't put it off!  Don't wait for the new year or even a new month – start today!  Commit and GO!