Grilled Honey Cumin Chicken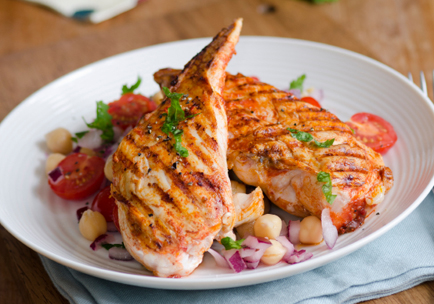 Spice up your chicken with a touch of cumin in this Grilled Honey Cumin Chicken recipe.
Total Time: 25 min.
Prep Time: 5 min.
Cooking Time: 15 min.
Yield: 4 servings
Ingredients:
2 Tbsp. raw honey
2 Tbsp. 100% orange juice
4 4-oz each raw chicken breast, boneless, skiness
1 Tbsp. olive oil
1 tsp. ground cumin
Sea salt and ground black pepper (to taste; optional)
Preparation:
1. Preheat grill to medium.
2. Combine honey and orange juice in a small bowl; whisk to blend. Set aside.
3. Brush each chicken breast lightly with oil. Sprinkle both sides evenly with cumin, salt (if desired), and pepper (if desired).
4. Place chicken on grill; cook, without turning, for 5 minutes. When chicken releases easily from the grill, turn and cook for an additional 3 minutes.
5. Reduce grill heat to low. Brush chicken evenly with honey mixture. Be careful, honey will burn if exposed to flames. Grill until a meat thermometer inserted into the center of each breast reads 160° F. Remove from grill. Let chicken rest 5 minutes before serving.
Note: The FDA suggests cooking chicken to a temperature of 165° F. Chicken will continue to cook after it is removed from heat, so we recommend that it be removed from the grill at 160° F to prevent drying out.
Nutritional Information (per serving):
Calories: 184
Fat: 7 g
Saturated Fat: 1 g
Cholesterol: 67 mg
Sodium: 439 mg
Carbohydrate: 10 g
Fiber: 0 g
Sugar: 9 g
Protein: 23 g