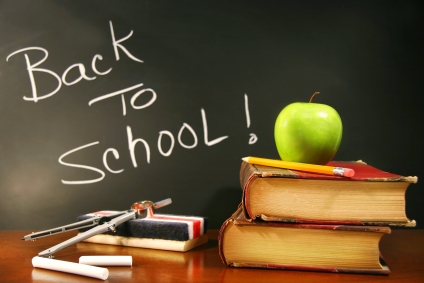 Moms Get Fit: Back to School Challenge!
Ok, let's be honest – how many of you HAVE a copy of Insanity… or P90X… or TurboFire… or some other fantastic workout program…that's hiding away in a closet somewhere?  Your intentions were great when you purchased it or borrowed it from a friend, but then life got busy and hey, you get plenty of exercise just chasing those kiddos around, right?  So, while we're being honest here, are you seeing the results you wanted?  Have you gotten rid of the baby weight?
Good news!  You are not alone!  And you certainly don't have to figure out the whole fitness/weight loss/gettin' healthy thing on your own!  Starting Monday, September 2nd, we are having a "Moms Get Fit: Back to School Challenge"!  Just for YOU!  YOU moms!  I'm a mom – a BUSY one – and things got crazy over the summer with the kids.  To top it off, we moved 9,000 miles away from our home to South Carolina, where we'll be living for the next 10 months.  It's been chaos for us AND for my fitness/health.
I personally will be combining Les Mills Combat along with running for my own fitness regime.  But any program is welcome in this Challenge.  We'll pair up our fitness with clean eating, including a daily serving of Shakeology.  And to top it all off, we add in the amazing support of the Challenge Group!  How many times have you started and then quit after a few days or weeks?  Not this time!  You'll have your own personal cheerleaders, all going through the same thing as you – busy moms wanting to take their health back!    For 30 days we'll commit together to reclaiming our health.  Are you in?  I sure am!  This is totally what I need right now!  Join me!
Special note for MEN!!  Feeling left out with this blog post?  No worries!  My hubby, also a coach, will be focusing on a men's group in September as well!  If you want to join in the fun, go ahead and fill out the same form as the moms, and we'll get  you in the men's Challenge Group!