P90X Results & Recovery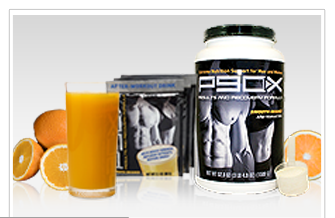 P90X Results & Recovery Formula
Refuel, re-energize, and reduce muscle soreness with this after-workout shake. Four parts carbs to one part protein ensures speedy muscle repair after intense workouts!* Now all-natural, with no artificial flavors or sweeteners.
Recover faster and see better results!
This great-tasting shake is specially designed to provide the precise nutrients you need to recover quickly after intense workouts. P90X® Results and Recovery Formula™ offers a unique mix of:
Dextrose–based formula for optimum glycogen replenishment*
A high Protein Efficiency Ratio (PER) blend to provide the critical building blocks for rapid muscle resynthesis*
Vitamins, including antioxidants, to help reduce muscle soreness and assist in repair and growth*
Studies1.2 show that with proper nutrition during the first hour following a workout you can increase your body's ability to recover by more than 100%. The key component to maximizing this "window of opportunity" is a formulation of approximately 4 parts carbohydrates to 1 part protein.
P90X Results and Recovery Formula is a state-of-the-art, great tasting, body-shaping cocktail that's guaranteed to take your results to the next level.
Choice of:
P90X Results & Recovery Formula Tub 

OR
P90X Results & Recovery Formula Packets

1Phillips, sm, J.W. Hartman and SB Wilkinson. 2005. Dietary protein to support anabolism with resistance exercise in men. J. Am. Coll Nutr. 24:1345.
2Haff, GG, MJ Lehmkuhl, LB Meloy and MH Stone. 2003. Carbohydrate supplementation and resistance training. J. Strength Cond Res 17:187.
WARNING: Consult with a healthcare professional if pregnant, breast feeding, providing to a child, or if you have any other unique or special needs. Keep out of reach of children.**With Home Direct, you'll automatically receive this item every 30 days for just $49.95 (plus a Super Discount shipping fee of only $2.00 per item) shipped directly to your door and billed monthly to the credit card you provide today. You may cancel at any time by contacting Customer Service.

*These statements have not been evaluated by the Food and Drug Administration. This product is not intended to diagnose, treat, cure or prevent any disease.