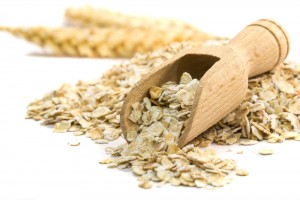 You've got a rushed, early morning but you know you need a hearty breakfast to get you through all you've got to do today.  What to eat?  How about a steaming bowl of oatmeal?!  We eat a lot of oatmeal in our house.  Seriously, a LOT!  I love it; my kids love it.  It's filling, it's nutritious, it's quick and easy to fix, AND it tastes good!   Forget Wheaties!  Oatmeal is the Breakfast of Champions in this house!
Why is this stuff so good for you anyway?  Glad you asked!  First off, oatmeal is high in fiber, which aids in digestion.  It's also known to improve cholesterol levels, stabilize blood sugar levels which particularly helps those with Type 2 Diabetes, and of course, is known as one of the most heart-healthy foods out there!  I've also learned recently that oatmeal has antioxidant properties and can strengthen your immune system in response to infections.   Oatmeal is a whole grain, making an excellent alternative for those with wheat sensitivity.
When choosing your oatmeal, go for the least processed form.  Steel-cut oats is the best choice, with Old-fashioned oatmeal being a close second.  Avoid the higher processed versions such as instant oatmeal.  In addition to the processing, they often have sugar and artificial ingredients added, which knock them off the "Clean Eating" list of foods!
What's the best way to eat oatmeal?  We love having steamed oatmeal topped with cinnamon and a small amount of pure maple syrup at our house.  Some other ways we enjoy it is adding natural peanut butter or fruit.  We make oatmeal granola, oatmeal pancakes, oatmeal bread, and healthy oatmeal cookies (recipe below!).  I use raw oatmeal in recipes as a replacement for bread crumbs (I usually grind it some in the blender first).   The possibilities are endless!  I'd love to hear some of your favorite uses for oatmeal!
Here's a recipe for our favorite Oatmeal Cookies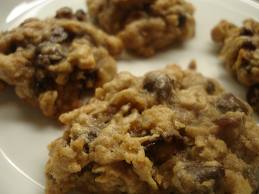 1 cup coconut oil
1 cup brown sugar or organic cane sugar
1 tsp vanilla
3 eggs
1 tsp salt
1 tsp baking soda
1 ½ cups whole wheat flour or other flour (we often use organic buckwheat flour as it is gluten free)
4 cups oats
1 tsp cinnamon
Options:
¾ cup chocolate chips
¾ cup grated coconut
¾ cup raisins or dried cranberries
¾ cup walnuts
Preheat oven to 350 degrees.  Blend coconut oil with sugar.  Blend in eggs and vanilla.  Stir in salt, soda, flour, and cinnamon.  Blend in oats and desired options.  Place 1" pieces of dough 1 ½" apart on ungreased cookie sheets.  Bake 10 minutes until light brown.  Makes 4 dozen.
These cookies are perfect for an after school snack for the kids and for snacks on the run!  I like to make a double batch and freeze half to pull out when a quick snack is needed and I don't have time to bake.