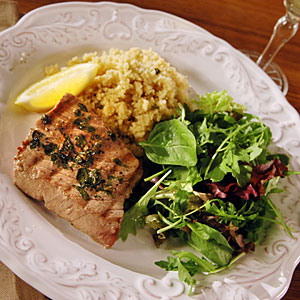 Living on a tropical island in the South Pacific, we are blessed with an abundance of fresh fish!  Just two nights ago my next door neighbor, who is a fisherman, walked in with a 12 lb yellow fin tuna he had just caught!  Whenever they catch extra, they pass some on to us!  I've had fun over the years experimenting with new recipes to make the fish more interesting and this one in particular has rated at the top as our family's favorite fish recipe.  I know most of you don't have access to just-caught-an-hour-ago-tuna, but you can find some good cuts at your local grocery store or save some money and buy frozen.  As a side note, I recommend making extra to use for some amazing tuna salad later on!
Sauteed Tuna Steaks
4 tuna steaks, approx. 6 oz. each and 1 inch thick
2 tbsp coconut oil
3 tsp toasted sesame oil
2 tbsp low sodium soy sauce or Bragg's Liquid Aminos
1 tbsp Worcestershire sauce
2 tbsp red wine vinegar or balsamic vinegar
Garlic powder to taste
In a large skillet, heat oils on  high.  Add soy sauce, Worcestershire, and vinegar, stirring.  Add the tuna steaks and cook until browned on the first side, about 4-5 minutes.  Sprinkle with garlic powder and turn steaks.  Sprinkle with garlic again and cook another 3-4 minutes.  Turn again and cook about 1 minute; remove from heat.  Serve with brown rice or quinoa and fresh greens.  Makes 4 servings.