Spinach Dip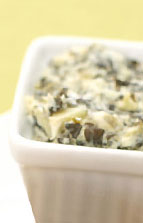 A lighter version of a popular favorite, this Spinach Dip recipe is lightened up by using Greek yogurt instead of sour cream!
Spinach Dip
Total Time: 10 min.
Prep Time: 10 min.
Cooking Time: None
Yield: 1 serving
Ingredients:
10 oz. fresh baby spinach (about 6 cups), steamed until wilted
1½ cups nonfat plain Greek yogurt, drained
3 cloves garlic, finely chopped
¼ cup finely chopped green onions
1 Tbsp. fresh lemon juice
Sea salt and ground black pepper (to taste; optional)
Preparation:
1. Place spinach in colander; drain of all excess water.
2. Finely chop spinach; place in a medium bowl.
3. Add yogurt, garlic, green onions, and lemon juice; mix well.
4. Season with salt and pepper if desired.
5. Refrigerate until ready to serve.
Nutritional Information (per serving):
Calories: 193
Fat: 3 g
Saturated Fat: 0 g
Cholesterol: 5 mg
Sodium: 205 mg
Carbohydrate: 29 g
Fiber: 8 g
Sugar: 16 g
Protein: 18 g