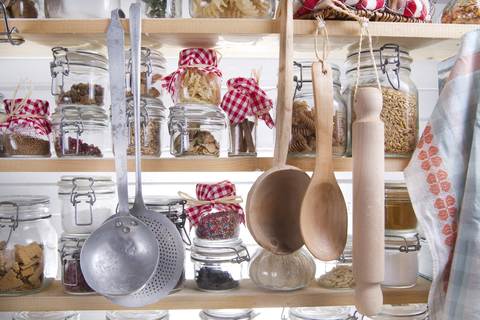 So many times, new members of our monthly Challenge groups ask as soon as they join, "What IS clean eating? Where do I even start?".  It can be confusing at the beginning when making a major lifestyle change, but by making small changes little by little, converting to a clean eating lifestyle doesn't have to be all that complicated.  My biggest tip up front is this: Don't change everything at once! Make changes one or two at a time; otherwise it can get frustrating and you may be tempted to give up. It can also be difficult for your family to offer support in dietary changes if the changes are so drastic they feel like they are giving up everything familiar!
Let's start with the pantry.  Take a look at what you've got in there now.  If your pantry is stocked with white sugar, white flour, chips, cookies, and candy, we've got some work to do!  But no worries; over time, you'll have a hard time believing that was ever the contents of your pantry!
Here's some basic staples I always have on hand and why:
Whole wheat flour – I use it just like I would white flour.  We make all our own bread so we go through this pretty quickly.
Organic raw sugar  & organic brown sugar – still sweeteners so remember to use in moderation
Aluminum free baking powder – studies are finding aluminum to be dangerous (more info on this in a near-future blog post!) which is why we've done our best to eliminate it's use in our household (including eliminating aluminum foil, aluminum cookware, AND antiperspirant deodorant!).
Old Fashioned Oatmeal – avoid the instant or even quick oatmeals (heavily processed versions of oatmeal) and go for the old fashioned.
Baking Soda – multiple uses for baking soda – not just cooking!
100% whole wheat pasta – organic is best
Himalayan Salt – loaded with minerals that our bodies need!
Sea Salt – a better salt for baking
Coconut Oil – my absolute favorite oil and probably the BEST for cooking!
Sesame Oil – great for stir frying veggies
Extra Virgin Olive Oil – a high quality oil that every kitchen needs but should not be used when heated – best for salad dressings
Apple Cider Vinegar – it's basically a miracle in a bottle! 🙂 This stuff is amazing!
Red Wine Vinegar – great for seasoning dishes
Balsamic Vinegar – also great for seasoning
Organic Raw Honey – our sweetener of choice for most things needing a little sweetness.
Natural Peanut Butter – read labels – many brands have hidden junk – your best bet is when the ingredients list is just peanuts!
Natural Almond Butter
Raw Cashews – I use raw nuts for a LOT of my recipes plus they're a great snack when the munchies hit.
Raw Almonds
Raw Walnuts
85% Dark Cacao – need I say more – EVERY kitchen needs chocolate!
Whole Grain cereals – for when you just gotta have a bowl of cereal!
Brown Rice – my family's favorite – they think they can't live without it!
Quinoa – We love this stuff too!  Use just like rice.
Various extracts (NOT imitation) – vanilla, almond, orange, etc.
Shakeology – I try to keep all flavors on hand so my kids can choose 🙂
Vegan Brown Rice protein powder – for those days when I need an extra boost of protein
Canned Goods:
Black Beans – If you've looked through my recipes in the recipe section of my site, you'll see we use a LOT of these!
Garbanzo Beans – We use quite a bit of these as well.  🙂
Tomatoes
Chiles
Olives – Greek/Kalamata/Black – a wonderful form of healthy fat!
Organic Tomato Paste
Organic Spaghetti Sauce
Coconut Cream – You can actually chill this and whip it like whipped cream!
Spices/Seasonings: (Look for quality seasonings – organic is best)
Cinnamon
Cumin
Chili Powder
Coriander
Nutmeg
Ginger
Garlic Powder
Curry Powder
Cilantro
Basil
Oregano
Of course this list isn't even close to being everything a healthy pantry could or even should contain.  But it's enough to get you started. Maybe you have some other kitchen essentials you can't go without. I'd love to hear about them; maybe I'll have something new to add to my shopping list!  As I said before though, changing everything at once will not get you very far (and you'll find it a bit tough on your wallet as well!).  So pick some small changes to get started with and get going.  Over time, these changes will add up and you'll be amazed at the transformation your pantry (and your health) has made!
Check back with us next week as we'll take a look at our refrigerator!