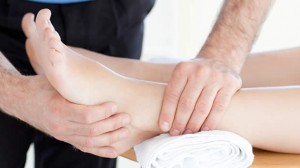 For the past several months I've worked out hard and have been pleased with the results I was getting.  So needless to say, when I broke my toe this weekend, discouragement hit!  Not only does this mean no workouts for awhile (doctor said to keep it elevated for two weeks!), but I'm a busy mom of five with a full summer schedule ahead of us, including a 10 day vacation getaway with my hubby coming up.  How can I just sit back and prop up my feet for two weeks?!  Fact is, we all will face injury at some time or another, and yes, it can throw a monkey wrench in our plans, particularly our fitness plans.  Here's some pointers to help maintain your fitness when injuries strike:
Don't panic!  Ok, you're probably laughing at that!   Yes, I panicked a bit when I heard my toe snap and then saw it pointing the wrong direction.  But seriously, it doesn't do anyone any good at all.  See your doctor to determine the best course of action for your particular injury and then follow his/her advice!   Find out what kind of exercise, if any, that you are able to do.  If it's a more serious, long term injury, look into a physical therapist or other form of recovery therapy.
Focus on nutrition.  When you're unable to keep up with your usual more strenuous exercise, this is NOT the time to cut loose and eat whatever.  Take your usual exercise time to spend some time planning and preparing healthier meals.  I'm keeping up with eating right, spending more time planning our family meals, drinking my Shakeology daily which guarantees me all the nutrients I need, and getting in my supplements.
Consider the Ultimate Reset.  Fortunately for me, I had already started the Ultimate Reset the week before.  Since the Reset takes 21 days to focus on resetting your health inside and out, they recommend no strenuous exercise during that time.  So why not take this on during the down time from an injury!
Try Tai Cheng as you recover.  Tai Cheng is is a low impact workout program designed for the elderly, athletes recovering from injuries, and anyone who wants to work on increasing their flexibility and mobility.
Give it time.  I know, easier said than done.  But keep reminding yourself that you WILL heal – that this will NOT be forever.  Even if you have a more permanent injury, as you recover you will be able to adjust and find new ways to keep fit and healthy.  Giving injuries time to rest and heal is the best medicine out there.
Injuries WILL strike.  It happens.  But you don't have to let your health fall apart during this time.  In fact, focusing on your health will aid in a faster recovery!  And above all, having a healthy attitude will be your best aid in recovery.  If you're reading this because of a current injuries, I wish you a speedy recovery!