Blueberry Smoothie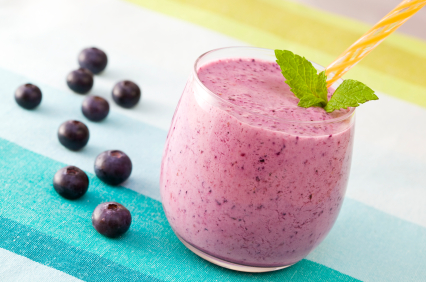 Blueberries are loaded with cancer-fighting antioxidants. This Blueberry Smoothie is a delicious way to add them to your diet while starting the day right with a nutrient dense breakfast.
Total Time: 5 min.
Prep Time: 5 min.
Cooking Time: None
Yield: 1 serving
Ingredients:
¼ cup 100% orange juice
¾ cup water
1 scoop Beachbody Whey Protein Powder, Vanilla Flavor (or equivalent)
1 tsp. finely chopped orange peel
1 cup fresh or frozen blueberries
1 cup ice
1 fresh mint leaf (for garnish; optional)
Preparation:
1. Place orange juice, water, Protein Powder, orange peel, blueberries, and ice in blender. Cover; blend until smooth.
2. Pour smoothie into serving glass; garnish with mint if desired.
Nutritional Information (per serving):
Calories: 221
Fat: 3g
Saturated Fat: 1g
Cholesterol: 35mg
Sodium: 53mg
Carbohydrate: 33g
Fiber: 5g
Sugar: 23g
Protein: 20g