Chimichurri Sauce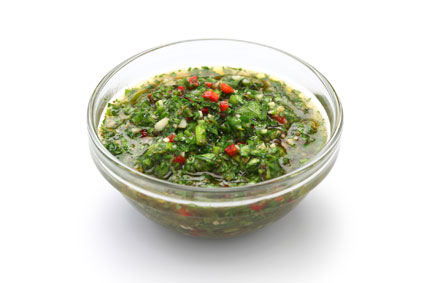 This bold, flavorful Chimichurri sauce from Argentina is used as a topping for grilled meat, but you can use it in so many ways! Try it as a topping for cooked vegetables, or as a spread on sandwiches.
Total Time: 10 min.
Prep Time: 10 min.
Cooking Time: None
Yield: 8 servings, about 2 Tbsp. each
Ingredients:
1 cup fresh Italian parsley (or ½ cup parsley and ½ cup cilantro)
2 cloves garlic, coarsely chopped
3 Tbsp. distilled white vinegar
4 tsp. extra-virgin olive oil
½ tsp. sea salt
½ tsp. crushed red pepper
Preparation:
1. Place parsley and garlic in a food processor; pulse until coarsely chopped.
2. Place parsley mixture in a medium bowl. Add vinegar and oil; mix well.
3. Season with salt and pepper.
Nutritional Information (per serving):
Calories: 25
Total Fat: 2 g
Saturated Fat: 0 g
Cholesterol: 0 mg
Sodium: 138 mg
Carbohydrate: 1 g
Fiber: 0 g
Sugar: 0 g
Protein: 0 g