Curried Chicken with Couscous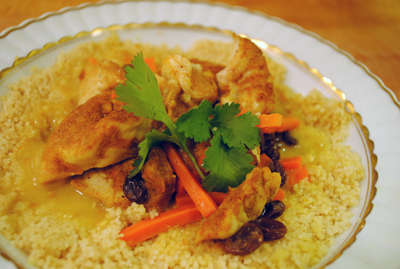 With a creamy, curry base made from coconut milk, this Curried Chicken with Couscous is an elegant entree to serve for a special occasion or just to make everyday a little more special.
Total Time: 42 min.
Prep Time: 15 min.
Cook Time: 27 min.
Yield: 8 servings
Ingredients:
2 cups water
2½ cups canned light coconut milk,divided use
1 tsp. salt, divided use
2 cups dry couscous
2 Tbsp. all-purpose flour
2 Tbsp. curry powder
2 lbs. raw chicken breast, boneless, skinless, cut into ½-inch strips or bite-sized pieces
1 Tbsp. coconut oil
3 medium carrots, cut into matchstick-sized pieces
½ cup raisins
½ cup chopped fresh cilantro
Preparation:
1. Heat water, ½ cup coconut milk, and ¼ tsp. salt in medium saucepan over medium high heat. Bring to boil. Gradually stir in couscous. Remove from heat. Let stand, covered, for 5 minutes. Remove cover and fluff with a fork.
2. Combine remaining ¾ tsp. salt, flour, and curry powder in a resealable plastic bag. Add chicken, seal the bag, and toss gently to coat.
3. Heat oil in large skillet over medium heat. Add chicken; cook for 5 minutes, or until chicken is no longer pink.
4. Add remaining 2 cups coconut milk, carrots, and raisins. Bring to a boil. Reduce heat to low and gently boil, stirring occasionally, for 7 to 10 minutes, or until chicken is tender.
5. Place ½ cup of couscous in each of 8 serving bowls and top with ¾ cup curried chicken. Garnish each serving with 1 Tbsp. cilantro.
Nutritional Information: (per serving)
Calories: 412
Fat: 10g
Saturated Fat: 6g
Cholesterol: 73mg
Sodium: 456mg
Carbs: 47g
Fiber: 4g
Sugars: 8g
Protein: 31g