Greek Yogurt Parfait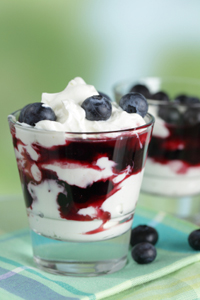 For a high-protein breakfast (or dessert) that will stave off your hunger, try this easy Greek Yogurt Parfait recipe made with Greek yogurt and berries.
Total Time: 10 min.
Prep Time: 10 min.
Cooking Time: None
Yield: 1 serving
Ingredients:
½ cup nonfat plain Greek yogurt
½ cup fresh blueberries (or mixed berries)
1 Tbsp. unsweetened high-fiber cereal (optional)
Preparation:
1. Layer ¼ cup yogurt and ¼ cup blueberries in a tall glass; repeat layer. 2. Top with cereal if desired.
Nutritional Information (per serving):
Calories: 108
Fat: 0 g
Saturated Fat: 0 g
Cholesterol: 8 mg
Sodium: 53 mg
Carbohydrate: 18 g
Fiber: 3 g
Sugar: 12 g
Protein: 12 g