Mango Salsa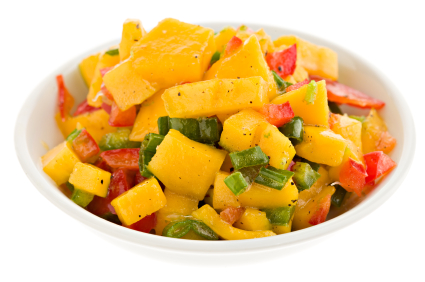 This mango salsa is a great topping for chicken or fish.
Total Time: 45 min.
Prep Time: 15 min.
Cooking Time: None
Yield: 4 servings, about 1/3 cup each
Ingredients:
1 medium mango, peeled, finely chopped
½ medium red bell pepper, finely chopped
1/3 medium red onion, finely chopped
3 fresh cilantro sprigs, finely chopped
1 tsp. crushed red chili pepper (optional)
2 Tbsp. rice wine vinegar
Preparation:
1. Combine mango, bell pepper, onion, cilantro, pepper (if desired), and vinegar in a medium bowl; mix well.
2. Refrigerate for at least 30 minutes to blend flavors.
Nutritional Information (per serving):
Calories: 42
Fat: 0 g
Saturated Fat: 0 g
Cholesterol: 0 mg
Sodium: 2 mg
Carbohydrate: 10 g
Fiber: 1 g
Sugar: 8 g
Protein: 1 g