Pasta Fagioli Soup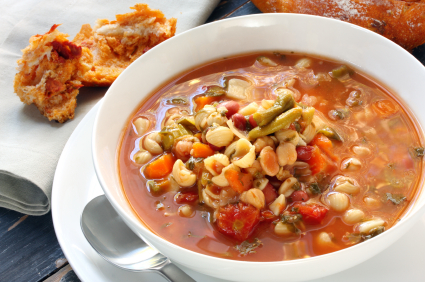 Pasta Fagioli Soup ~ Try this classic Italian soup made with white beans and whole wheat pasta.
Total Time: 25 min.
Prep Time: 10 min.
Cooking Time: 15 min.
Yield: 8 servings, about 1 cup each
Ingredients:
1½ cups dry whole grain small pasta (like macaroni or orzo) (4 oz.) 2 tsp. olive oil 3 cloves garlic, thinly sliced 4 cups low-sodium organic chicken broth 1 (15-oz.) can cannellini (white) beans, drained, rinsed 1 (14.5 oz.) can stewed tomatoes 2 Tbsp. tomato paste (no sugar added) 9 fresh rosemary sprigs, leaves removes and chopped, stems discarded Sea salt and ground black pepper (to taste; optional)
Preparation:
1. Cook pasta according to package directions. Set aside.
2. Heat oil in large saucepan over medium-high heat.
3. Add garlic; cook, stirring frequently, for 1 to 2 minutes, or until soft.
4. Add broth. Bring to a boil. Reduce heat to medium.
5. Add beans, tomatoes, tomato paste, and rosemary. Season with salt and pepper if desired; gently boil, stirring occasionally, for 8 to 10 minutes.
6. Add pasta; cook for 3 minutes. Serve immediately.
Nutritional Information (per serving):
Calories: 126
Fat: 3 g
Saturated Fat: 0 g
Cholesterol: 0 mg
Sodium: 202 mg
Carbohydrate: 21 g
Fiber: 4 g
Sugar: 3 g
Protein: 7 g