Spiced Cranberry Sauce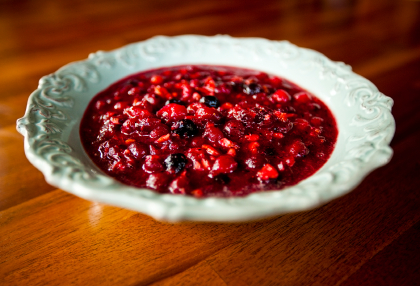 This spiced cranberry sauce is a great alternative to the super sugary variety. A perfect addition to a healthy Thanksgiving dinner!
Total Time: 30 min.
Prep Time: 10 min.
Cooking Time: 20 min.
Preparation Difficulty:Medium
Yield: 16 servings, ¼ cup each
Ingredients:
½ fresh orange juice
½ 100% apple juice
1 tsp. finely chopped orange peel
½ ground cinnamon
¼ ground nutmeg
¼ ground ginger
1 (12oz.) bag fresh cranberries, rinsed
1 cup chopped raw pecans
½ raisins
2/3 cup canned crushed pineapples, packed in juice
2 Tbsp. pure maple syrup
Preparation:
1. Bring orange juice, apple juice, orange peel, cinnamon, nutmeg, and ginger to a boil in medium saucepan over medium-high heat.
2. Add cranberries. Reduce heat to medium-low; cook, uncovered, for about 10 to 12 minutes.
3. Add pecans, raisins, and pineapple; cook for 2 minutes or until heated through.
4. Remove from heat and stir in maple syrup.
5. Cool before serving.
Nutritional Information (per serving):
Calories: 91
Carbohydrate: 12 g
Protein: 1 g
Fat: 5 g
Saturated Fat: 0 g
Cholesterol: 0 mg
Sodium: 2 mg
Sugar: 8 g
Fiber: 2 g