Tomato Thyme Pita Crisps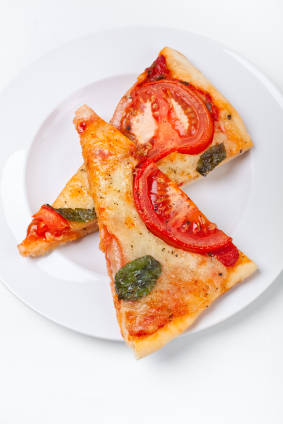 For these tasty Tomato Thyme Pita Crisps, top pita wedges with Parmesan, basil, and olive oil .
Total Time: 18 min.
Prep Time: 10 min.
Cooking Time: 8 min.
Yield: 8 servings
Ingredients:
5 fresh basil leaves, finely chopped (or 2 tsp. dried)
½ tsp. ground black pepper
½ tsp. dried thyme leaves
2 Tbsp. grated Parmesan cheese
4 (6½-inch) whole wheat pitas, split (tops removed from bottoms), cut into quarters
1 Tbsp. olive oil
3 cups chopped tomatoes (or sliced cherry tomatoes)
Preparation:
1. Preheat oven to 350° F.
2. Combine basil, pepper, thyme, and cheese in a small bowl; mix well. Set aside.
3. Spread pita wedges evenly on baking sheet.
4. Lightly brush each wedge with oil.
5. Sprinkle basil mixture evenly over pita wedges. Bake for 6 to 8 minutes, or until golden brown.
6. Top pita wedges evenly with tomatoes. Serve immediately.
Nutritional Information (per serving):
Calories: 120
Fat: 3 g
Saturated Fat: 1 g
Cholesterol: 1 mg
Sodium: 198 mg
Carbohydrate: 20 g
Fiber: 3 g
Sugar: 2 g
Protein: 4 g