Tzatziki (yogurt sauce)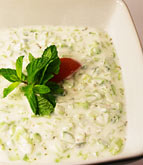 I LOVE Greek food and this Tzatziki recipe is a perfect addition to give a zesty Greek flavor to your sandwiches or salads or just to use as a healthy dip.
Total Time: 1 hr. 10 min.
Prep Time: 10 min.
Cooking Time: None
Yield: 8 servings
Ingredients:
2 cups nonfat Greek yogurt
½ tsp. sea salt
¼ ground black pepper
2 cloves garlic, finely chopped
2 small cucumbers, peeled and diced
2 Tbsp. fresh dill, finely chopped
1 Tbsp. fresh mint leaves, finely chopped
Preparation:
1. Combine yogurt, salt, and pepper in a medium bowl. Mix well.
2. Add garlic, cucumbers, dill, and mint. Mix well.
3. Chill for 1 hour. Serve with fresh vegetables or cooked fresh artichoke for dipping.
Nutritional Information (per serving):
Calories: 37
Fat: 0 g
Saturated Fat: 0 g
Cholesterol: 0 mg
Sodium: 157 mg
Carbohydrate: 3 g
Fiber: 0 g
Sugar: 3 g
Protein: 6 g